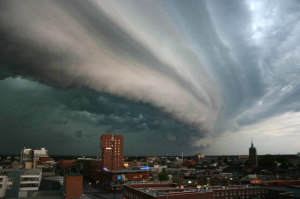 Storms can wreck havoc on communities and cities that experience large scale hurricanes or storms. In Wisconsin, Milwaukee strong storms and hail damage moved throughout the city recently leaving thousands of homes and businesses without power.
MILWAUKEE — A line of powerful thunderstorms with strong winds and hail moved through Wisconsin Monday morning, June 22nd — causing damage in the southern portion of the state. There is a chance of more scattered showers and thunderstorms later Monday afternoon and evening with a slight possibility of isolated severe storms.

Northern Wisconsin:

A woman was injured in Lac du Flambeau (Vilas County) when a tree branch reportedly struck the victim in the head. She was taken to a hospital for treatment.

Southwest Wisconsin:

Dane County: City of Stoughton reports multiple trees and power lines down.

Grant County: Power company crews are reportedly working to restore electricity. Several sheds and outbuildings were destroyed in Cassville, Platteville and Hazel Green. Trees fell on homes and roads throughout the county and there are widespread reports of roof and crop damage. Residents who need assistance or sustained significant damaged should contact the Grant County Emergency Management office at 608-723-7171.

Green County: Numerous reports of downed trees and power lines. The New Glarus area appears to be hardest hit. Green County Emergency Management is currently assessing the damage.

Original release can be found on http://fox6now.com/2015/06/22/storms-lead-to-wind-damage-in-se-wi-25000-without-power-monday-afternoon/
The summer storm and monsoon season is upon us in many different states. Last year in Arizona, they saw record flood waters during their monsoon season.